September 21, 2023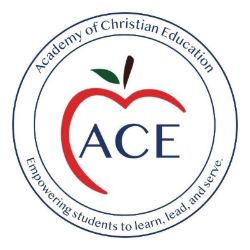 Parents are waking up to a lamentable reality: School districts are embracing controversial curriculum flowing downstream of America's broader culture. But perhaps the more problematic detail is that places like Montgomery County are denying parents the right to opt their students out of these lessons. Just last month, a federal court in Maryland ruled that students must participate in curriculum featuring LGBTQ+ content starting as young as Pre-K. Parents across diverse religious traditions have united to push back against what they consider to be indoctrination. They've been fighting for the parental choice to opt out, and for the time being, they've lost. It seems Montgomery County public schools deny parental authority when it comes to their child's education. This raises the question; what should be the role of parents in their child's education?
At ACE, it's our belief that the responsibility of a child's education belongs firstly to his or her parents. In the book of Proverbs, parents are instructed to "train up a child in the way he should go, and when he is old he will not depart from it." (Prov. 22:6) Parents possess an intrinsic power, designed by God, to influence their children in a uniquely profound way. The authority of parents is primary, while the authority of their child's school is secondary.
When parents entrust their children to the care of a school, they are merely delegating a particular job for a particular purpose to that school. The role of the institution, therefore, is not to supplant parents under the guise of education; it is to support and collaborate with parents for the sake of children's education. A school's authority, whether public or private, has been granted in each child's life by his or her parents – it is derivative and it has limits.
A disordered educational institution tries to demote parents from their natural place. It acts in the life of a student without respect given to whose primary care he or she is under. As in the case of Montgomery County, fathers and mothers are seemingly disregarded. A rightly ordered educational institution, however, honors the authority of parents in a child's life. A healthy school educates with transparency and acts in the life of a student with appropriate consideration for parental input.
ACE is committed to being a place where parents are esteemed as the first and primary influence in their child's life. Parents carry the responsibility to opt into an educational partnership with teachers and administrators committed to preserving their role as parents… At ACE, we honor and welcome your presence, your participation, your voices, and your freedom to choose how to teach Family Life education.

---
Madeleine O'Neill, "Parents Lose Challenge to Gender Guidelines at Montgomery County Public Schools," Maryland Daily Record, accessed September 20, 2023, https://thedailyrecord.com/2023/08/15/parents-lose-challenge-to-gender-guidelines-at-moco-public-schools/.
September 14, 2023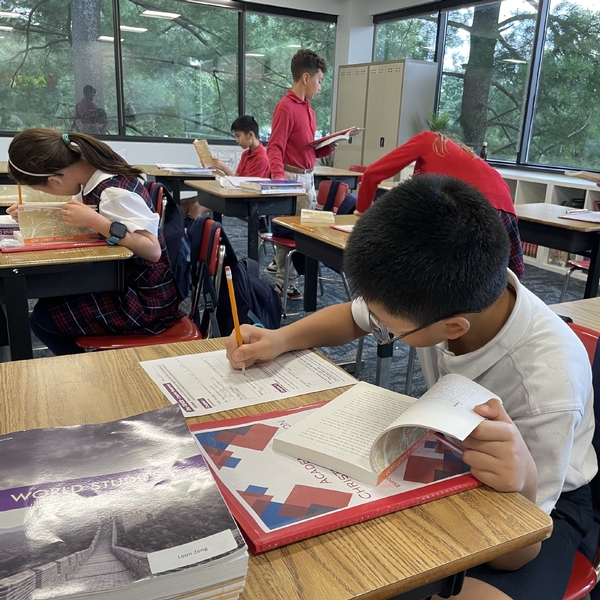 The new school year is underway at the Academy of Christian Education! We're thrilled to be welcoming new and returning families through the doors and into our growing community. With gratitude for the last 27 years of God leading and sustaining ACE, we continue to answer His call to build a place of robust Christian education. We're offering rigorous academics with a biblical worldview, training up the next generation of students to love, lead, and serve an ever-changing world.
Since 1997, we have seen firsthand the difference our advanced curriculum and faith-filled teachers have had on our elementary students. As ACE has grown in recent years, we've been able to nurture the minds and hearts of middle school students as well, and it's with great anticipation that we celebrate our inaugural 9th grade class! The walls of the Academy have expanded, lending an incredible new space for our middle and upper school students to flourish. We are especially excited for our older students to make use of this brand-new addition to our building featuring spacious classrooms, a lunchroom, library, technology lab, and theatre. We are ecstatic for these budding leaders to have their own spaces to develop their study habits, collaborate on projects, serve their communities, and fellowship with one another.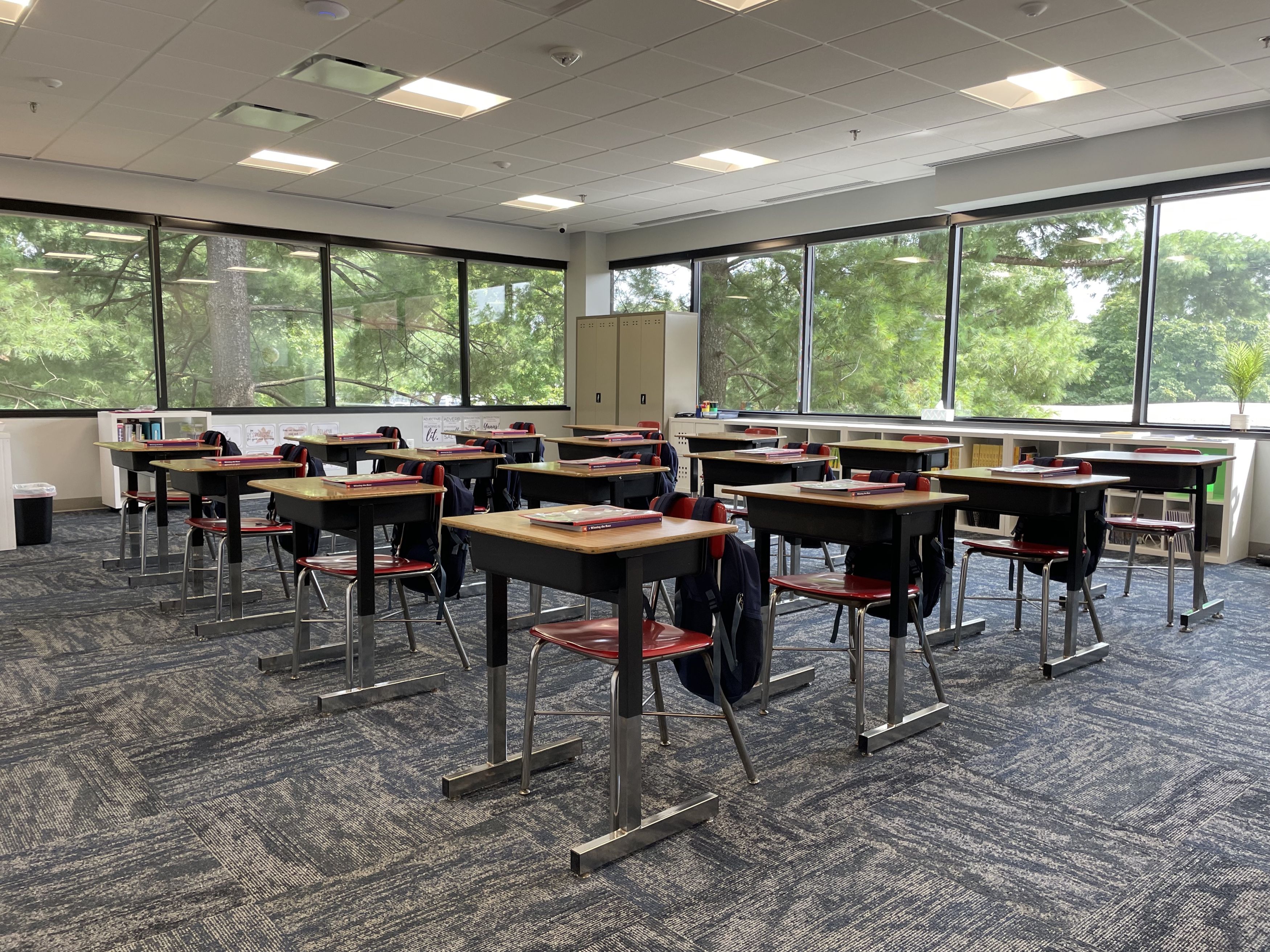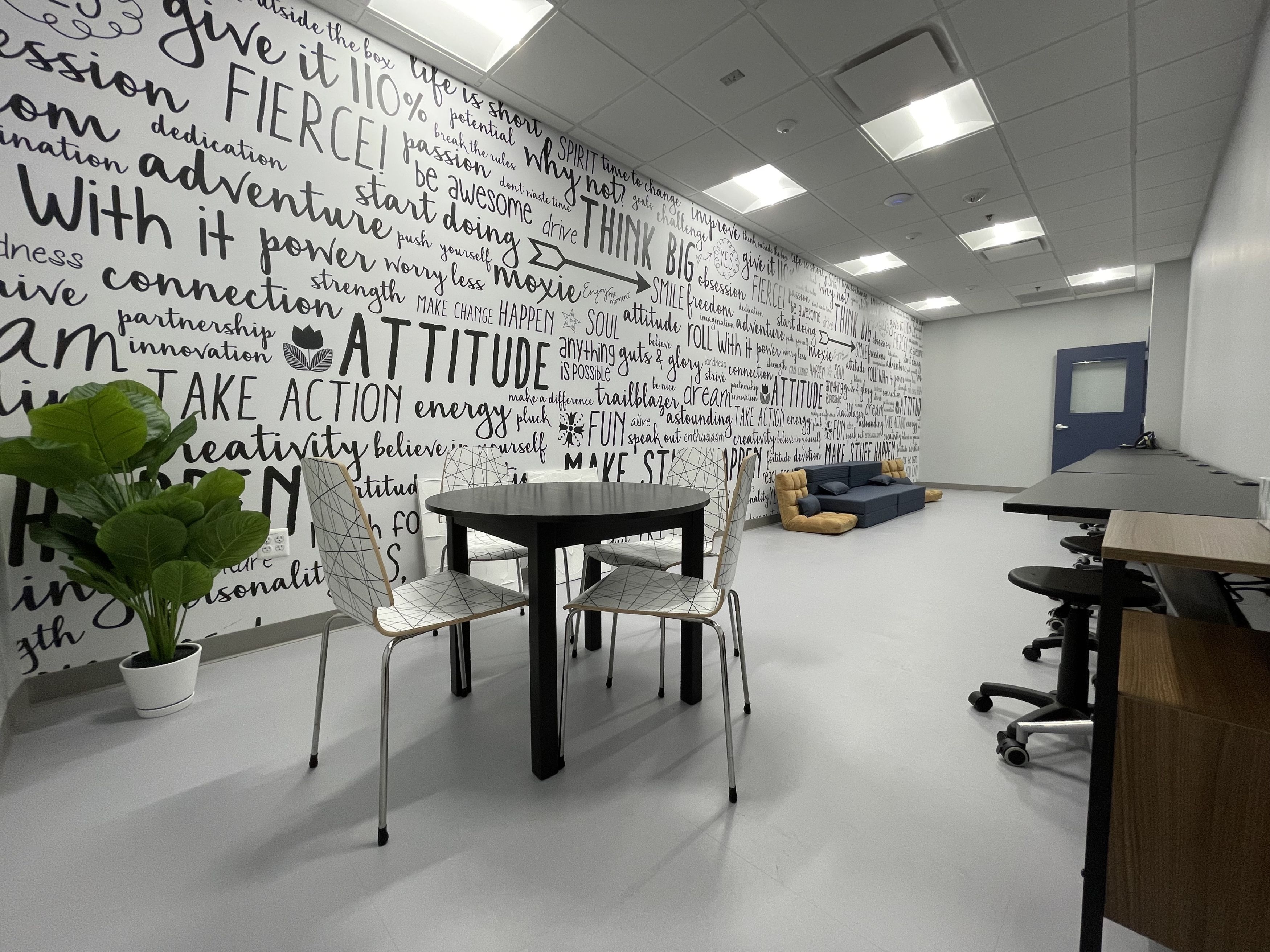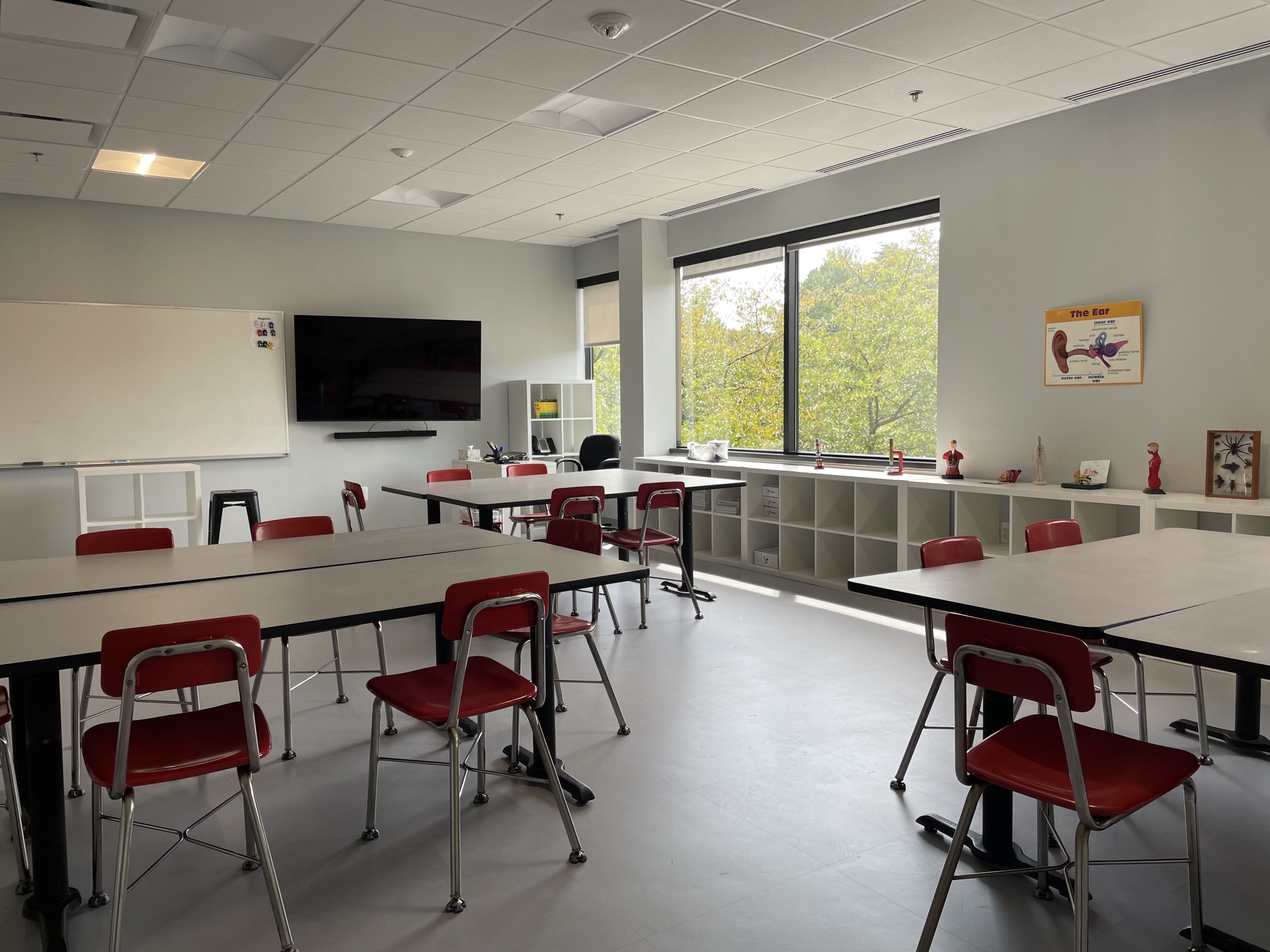 As ACE students find their footing in September, we want to invite our families to get engaged this school year at ACE. We encourage you to attend events, participate in extracurricular activities, join clubs, and seize service opportunities as they arise. We hope that you'll grow in friendship with one another as we strive together to fulfill our mission. And we welcome you to follow our blog over the coming months as we continue to discuss the landscape of education, introduce you to our fantastic staff, and highlight new, exciting things going on behind the doors of ACE.
Welcome back, friends!

April 26, 2023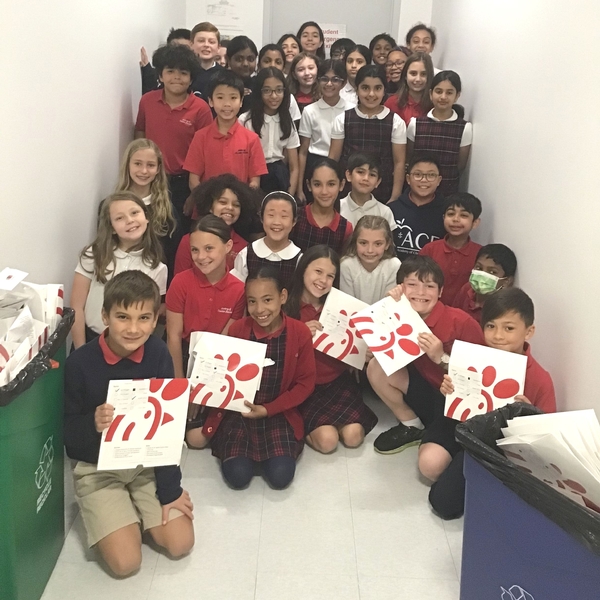 At The Academy of Christian Education (ACE), one of the student's favorite hot lunch days is Wednesdays. Why you might ask? That is because Wednesdays are Chick-fil-a day. The great employees at Chick-fil-a Reston, North Point Village package up lunch for our students every Wednesday in individualized boxes. Each student who orders lunch that day gets a box with their name on it and at the end of the lunch period that box ends up in the trash. That is until the ACE Student Government Association (SGA) decided to step in and create a solution. The solution they implemented is to recycle the boxes and they have gotten the whole school involved. The SGA produced a video to demonstrate how to break down the boxes so that they are flat and how to place them into the new recycling containers. Our students went a step further to figure out how much landfill waste their efforts would save. They determined, with the help of a few teachers, that recycling the Chick-fil-a boxes will save 40,880 cubic centimeters of trash every week, 163,520 cubic centimeters of trash per month, and 1,144,640 cubic centimeters of trash every year. That is quite an impact ACE students. Way to go!
September 01, 2022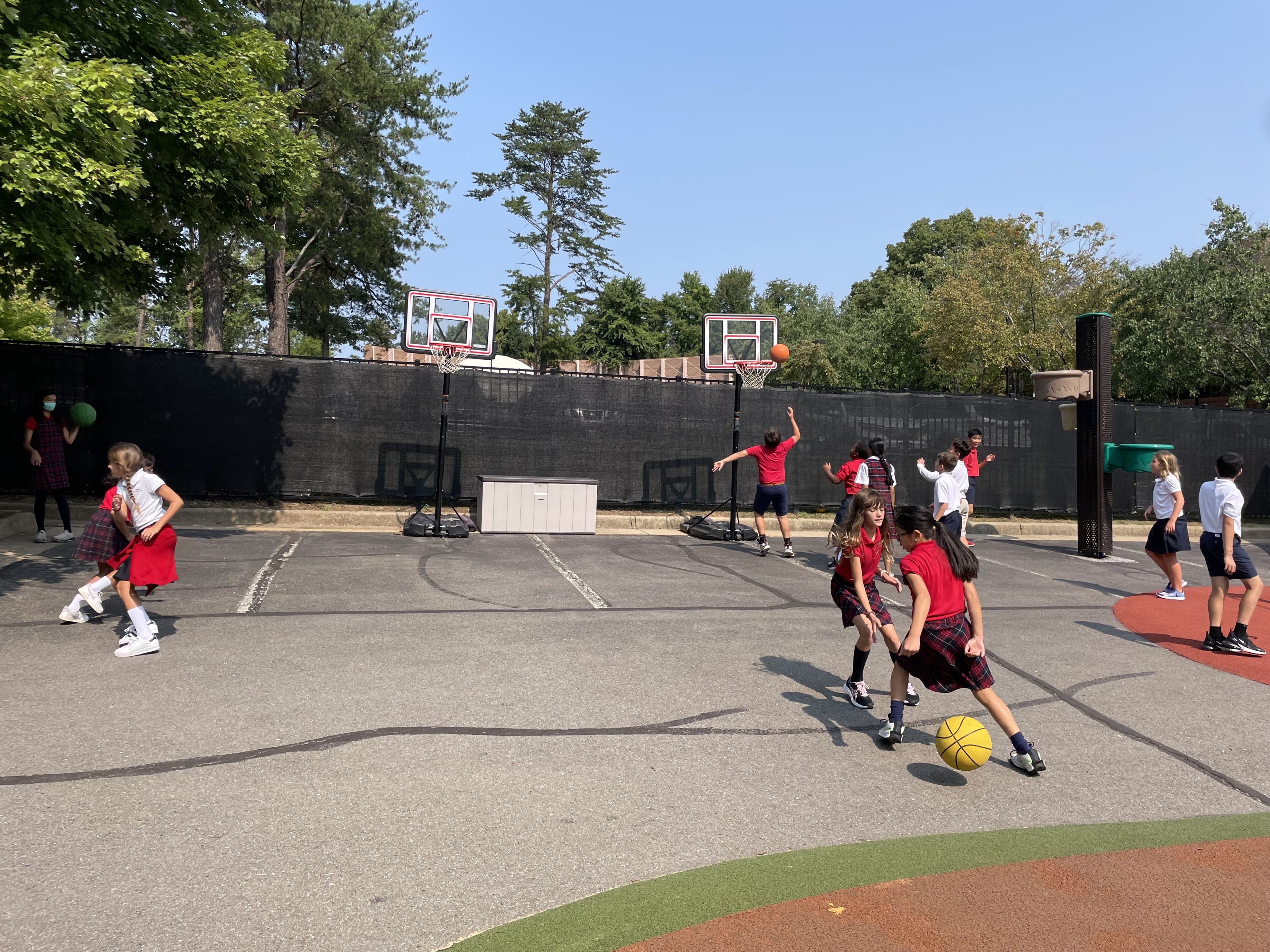 Big changes came to the ACE playground over the Summer. We rearranged the five picnic tables in order to create more space for our students to line up when recess is over. This is especially helpful when multiple classes must line up at the same time. Moving the picnic tables that were located towards the rear of the playground allows for a much bigger basketball area for our students. Our students love the new basketball area and the new basketballs that go with it. In fact, all the balls, jump ropes and other playground toys have been replaced with new ones!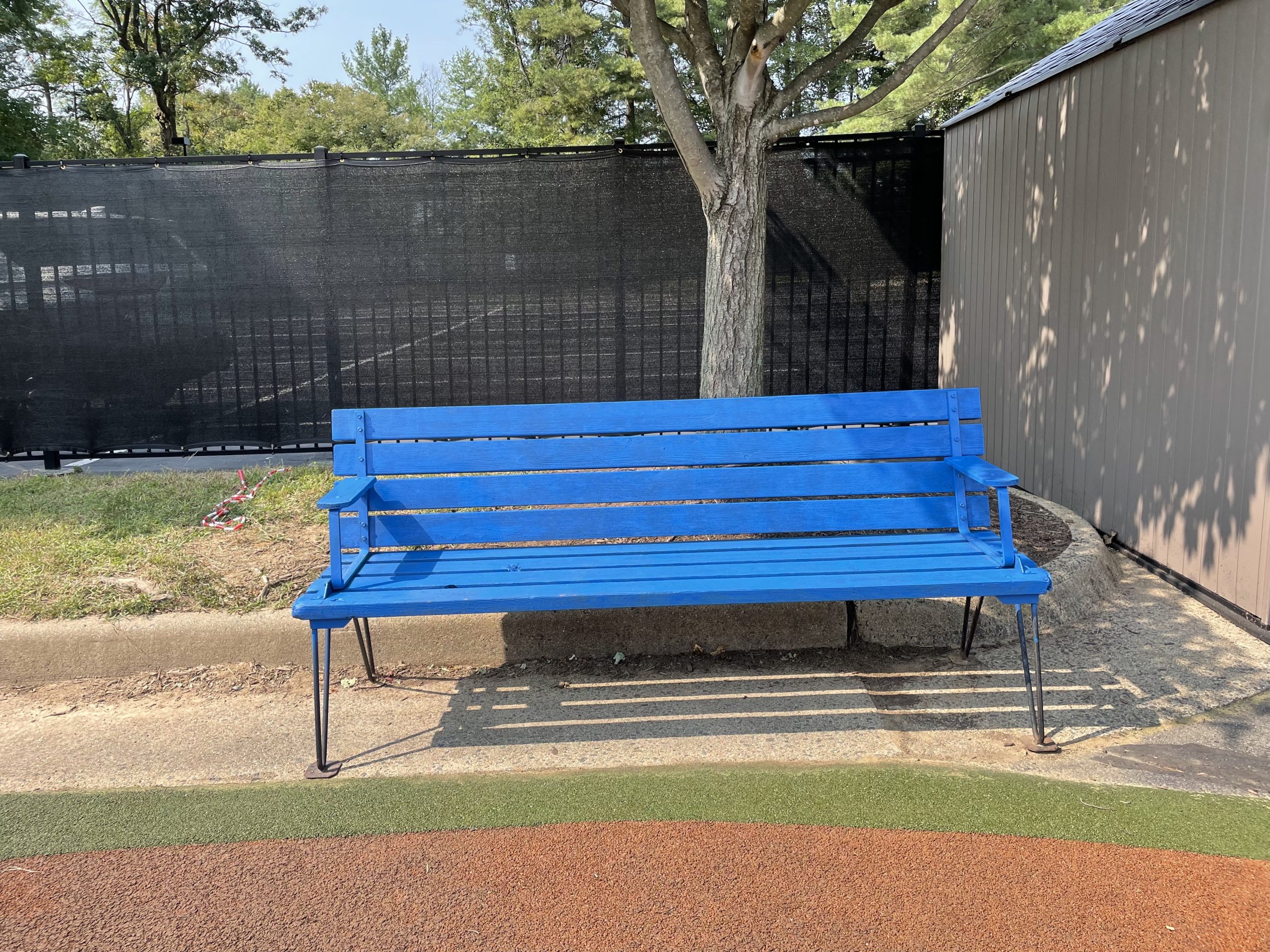 The benches on our playground got a fresh coat of blue paint. They now match the color of the picnic tables. Next to our benches are new sheds to house our equipment.
If you have a young student at ACE, they may have told you how much they love to ride on the tricycles at recess. Teachers usually had to put a time limit on the two trikes because of the high demand. Now, ACE has four new tricycles in nice bright colors. Sorry first graders and up, these trikes are for our younger students.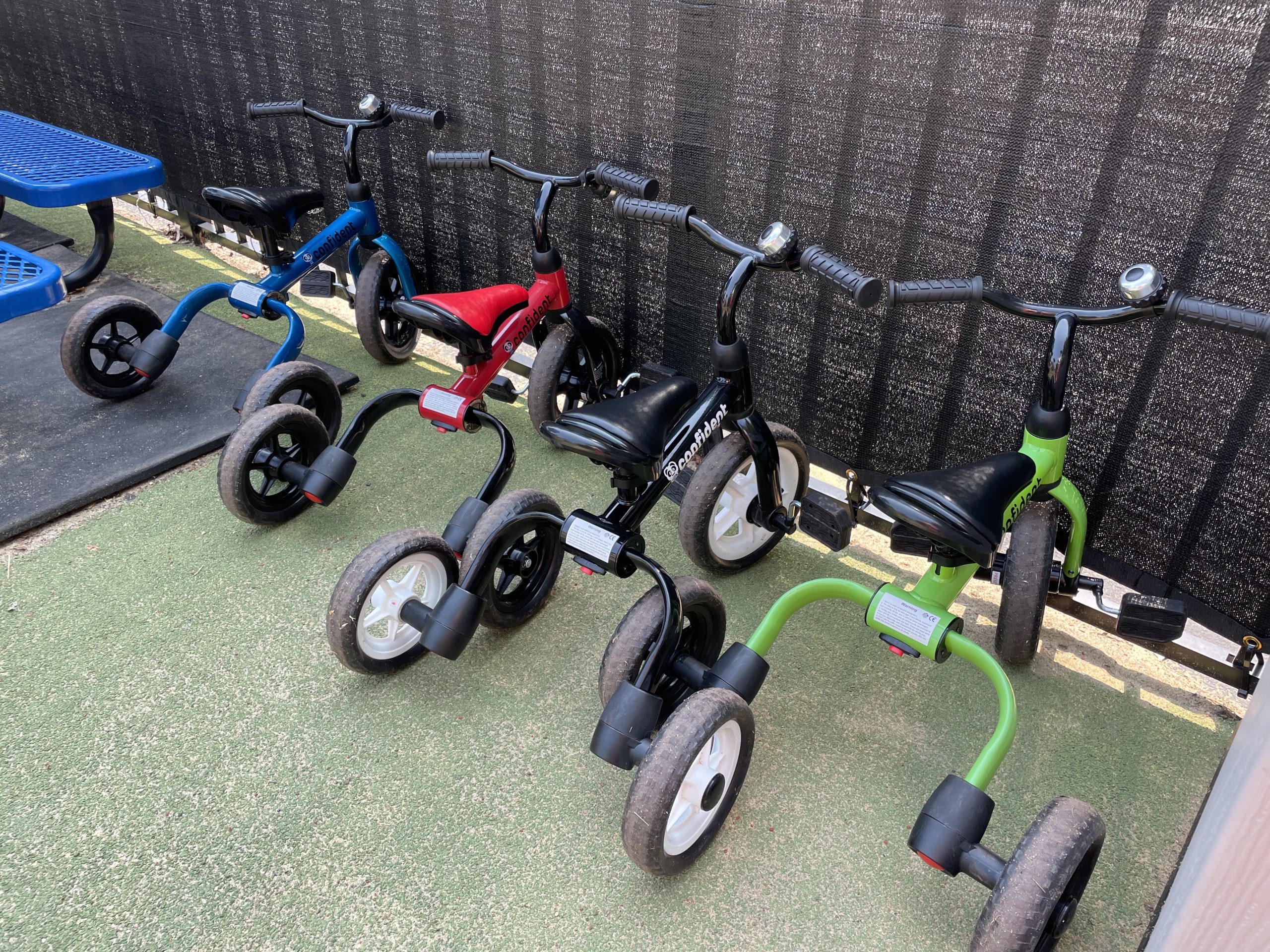 Over the years we have lost a few trees that used to shade our playground so ACE installed a very large sun shade. The use of this shaded area is totally up to the creativity of our students. We can see kids using the space for four square, hopscotch and more. We know our teachers also enjoy using the shaded space on hot days.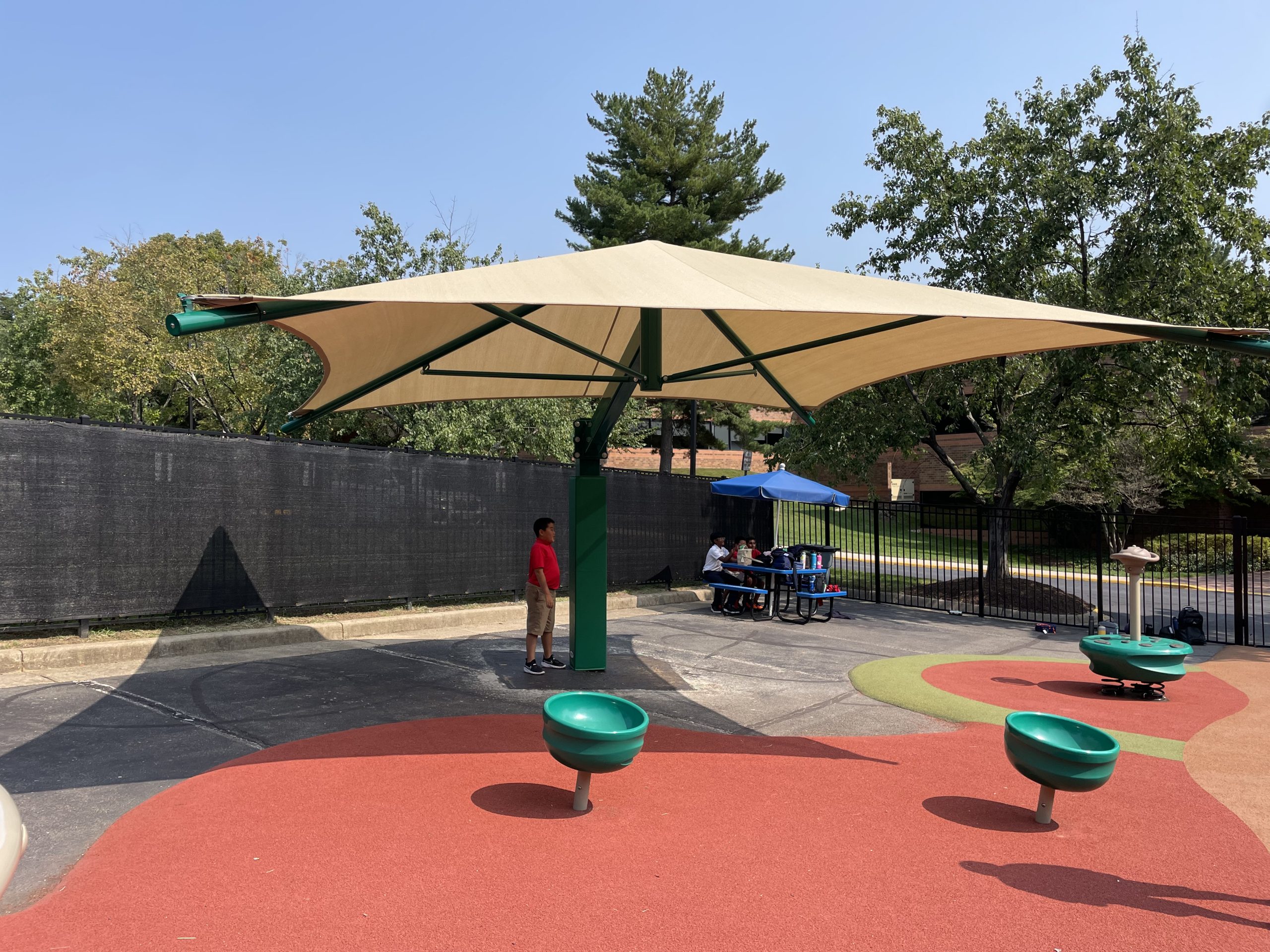 Lastly, ACE added a privacy screen around the fenced playground area. This not only gives our recess area a more private feel but it also makes our students more visible to the teachers.

We hope you enjoy all the updates to the playground at ACE. If you haven't seen them yet, take a look next time you visit us.